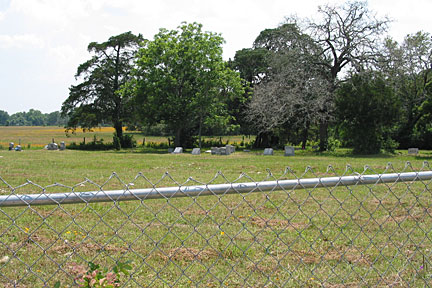 There are thirty-two markers and many unmarked graves in this African-American cemetery. The county maps shows it as the Ward Cemetery, but a sign at the cemetery calls it the Honey Creek Cemetery. Sammy Tise lists it as the Ward Cemetery in his Lavaca County, Texas Cemeteries.
The oldest marker is for Holt Nelson, who died in 1900. The next marked grave is from 1938, though death certificates tell us there are several other unmarked graves from earlier in the 1930s. Several of the graves mentioned by Sammy Tise in his book were no longer marked in July 2011, when Regena Williamson inventoried the cemetery. It's possible the markers were the temporary small metal funeral home type and have been lost through the ensuing years.
To visit the cemetery, go north from Sublime on CR 142. Go straight, now on CR 143, when 142 turns left for the Navidad River bridge. The cemetery is on the left on a curve in the road.
| | | | |
| --- | --- | --- | --- |
| Adams, Henrietta | Feb 23, 1868 | Jul 10, 1959 | Daughter of Saul Clark and Minnie Russell |
| Axel, Annie May | Aug 8, 1927 | Oct 18, 2003 | |
| Baines, Lewis | Feb 3,1903 | Apr 4, 1950 | Son of Jimmy Baines and Sevanah Williams |
| Balden, Ann | Sep 27, 1824 | Sep 27, 1936 | Unmarked, info from death certificate |
| Bolden, Ella | Dec 24, 1913 | Dec 3, 1957 | Daughter of Leon Ward and Jennie Rogers |
| Bouldin, Emmett | | Nov 2, 1964 | Son of Ples Bouldin and Ella Ward |
| Bouldin, Jesse | Aug 21, 1896 | Jan 20, 1979 | Pfc, USA, WWI |
| Brown, Mary Ella | Nov 12, 1906 | Mar 20, 1951 | Daughter of Alex Webb and Etta Simms; unmarked, info from death certificate |
| Carr, Robert Lee | Apr 16, 1923 | Jul 28, 1981 | |
| Carr, Zomater | Nov 17, 1903 | Aug 11, 1972 | Parents are Alex Webb and Etten Sims |
| Holt, Nelson | 1855 | 1900 | This grave is marked, but was not mentioned in Sammy Tise's Lavaca County, Texas Cemeteries |
| Monroe, Ben | Jan 17, 1882 | Apr 23, 1953 | Son of Jack Monroe and Cloran Runels; unmarked, info from death certificate |
| Monroe, Elnora | ca 1911 | Dec 10, 1975 | 75 years 2 months, daughter of John Davis and Betty Brant; unmarked, but mentioned in Sammy Tise's Lavaca County, Texas Cemeteries |
| Monroe, Henry | ca 1873 | Jun 4, 1940 | Son of Henry Monroe; unmarked, info from death certificate |
| Monroe, John | Mar 14, 1871 | Sep 29, 1961 | Son of Jack Monroe and Clara; unmarked, info from death certificate |
| Monroe, Lucinda | Apr 24, 1875 | Aug 7, 1962 | Daughter of Ervin Doss and Sarah Foster |
| Monroe, Marvin | Jun 30, 1945 | Jan 29, 1988 | |
| Monroe, Minnie | Oct 30, 1910 | Aug 4, 1977 | |
| Robinson, Maggie Ward | Jul 12, 1896 | Sep 12, 1938 | |
| Scott, Joe Lee | Apr 25, 1905 | Aug 29, 1933 | Son of Henry Scott and Ema Monroe, married to Mary Liza; unmarked, info from death certificate |
| Scott, Lepolion | Apr 2, 1904 | Sep 2, 1953 | Unmarked, but mentioned in Sammy Tise's Lavaca County, Texas Cemeteries |
| Sims, Ella Mae | Apr 23, 1893 | Jun 23, 1966 | Daughter of Able Washington and Henrietta Clark; death certificate says born in 1906 |
| Sims, Luke | Jan 6, 1888 | Aug 16, 1966 | Married Ella Mae September 16, 1910 |
| Sims, Rosie Lee "Cat" | Jan 15, 1913 | May 19, 1991 | |
| Tennon, Bobbie | Feb 23, 1927 | Dec 3, 2010 | Daughter of Francis Warren and Vetter Lee |
| Tennon, Charlie III | Jun 10, 1972 | Mar 5, 1994 | Son of Charlie Tennon and Bobbie Warren |
| Tennon, Jeffery Elmo | May 20, 1961 | Aug 2, 1980 | Son of Charlie Tennon and Bobbie Warren |
| Ward, Alice Lee | Jul 15, 1930 | Mar 6, 1944 | Daughter of Walter Ward and Minnie Robertson |
| Ward, Annie Belle | Mar 23, 1944 | Mar 25, 1944 | Daughter of Vince Ward Jr. and Tony Foley; unmarked, info from death certificate |
| Ward, Annie B | born ca 1897 | Feb 15, 1950 | Daughter of Butler Evans and Ammie Monroe |
| Ward, Annie Marline | Oct 10, 1963 | Aug 2, 1980 | |
| Ward, George | Oct 9, 1912 | | |
| Ward, Henrietta | Apr 30, 1937 | Jun 23, 1937 | Daughter of Walter Ward and Minnie Robertson; unmarked, info from death certificate |
| Ward, Lillian A | Apr 23, 1925 | Jan 19, 1948 | Daughter of Walter Ward and Minnie Robertson |
| Ward, Lula Mae | Dec 23, 1929 | Jul 12, 1981 | |
| Ward, Vinc | Mar 1, 1866 | Apr 10, 1941 | Son of Vinc and Ann Ward; unmarked, info from death certificate |
| Ward, Vinc | Aug 27, 1891 | Sep 24, 1963 | Son of Vinc Ward and Alice Clark, wife Annie Lee |
| Ward, Walter | Apr 8, 1890 | Jul 23, 1975 | Son of Vince Ward |
| Ward, Walter Jr. | Mar 16, 1921 | Dec 20, 1979 | M/Sgt, USA, WWII |
| Ward, Unknown | | | Illegible marker listed in Sammy Tise's Lavaca County, Texas Cemeteries |
| Washington, Abe | | Dec 12, 1967 | Son of Ty Washington and Henrietta Clark, 90 years, 10 months, 12 days; unmarked, but mentioned in Sammy Tise's Lavaca County, Texas Cemeteries |
| Webb, Alex | Dec 5, 1896 | Mar 7, 1952 | Son of Dromis Webb |
| Webb, Etter | Dec10, 1897 | Jul 4, 1949 | |
| Webb, Issias | Apr 10, 1875 | May 1, 1958 | Son of Promise Webb and Elisabeth; unmarked, info from death certificate |
| Webb, Gladys | Jan 23, 1922 | Jun 8, 1977 | |
| Webb, Maggie | Aug 2, 1877 | Nov 5, 1968 | Daughter of Saul Clark and Mealia Russell; unmarked, info from death certificate |
| Wilkins, Dulley | Aug 20, 1935 | Feb 6, 1962 | Son of Duley Wilkins Sr. and Pearline Webb; unmarked, but mentioned in Sammy Tise's Lavaca County, Texas Cemeteries as Williams |
| Wilkins, Dolie | | Apr 8, 1978 | Unmarked, but mentioned in Sammy Tise's Lavaca County, Texas Cemeteries |
| Williams, Pearlina | Aug 23, 1914 | Nov 2, 1966 | Unmarked, but mentioned in Sammy Tise's Lavaca County, Texas Cemeteries and info from death certificate |