Stratmann Cemetery
LAVACA COUNTY, TEXAS
A HISTORIC TEXAS CEMETERY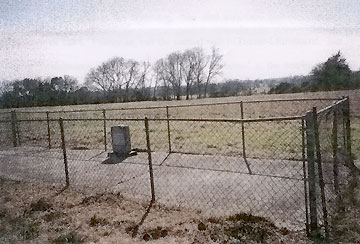 The Stratmann Cemetery is a small, family cemetery located about eight miles northeast of Hallettsville on the Samuel Fuller League in Lavaca County. Bernard Stratmann purchased 90 acres of land from John Griffith on July 28, 1874 (Vol. R p. 488+) and 33 acres from David Rhode and M. C. Ormand on November 8, 1876 (Vol T. p. 349+). The 123 acres became part of a 128-acre homestead that remained in the Stratmann family until after the death of Bernard in 1909. His heirs sold the 128-acre plot to William Fritsch on September 25, 1918 [Vol. 80 p. 418]. In the description of this 1918 deed, the survey refers to 350 square feet for a private cemetery.
Four Stratmann family members are buried in the cemetery. The first burial was for infant who died at birth on September 24, 1878. The child's mother, Friedricke Lindau Zinke Stratmann, is also buried in the cemetery. She died sometime between October 1879 and September of 1884. Friedricke was the second wife of Bernard Stratmann. His first wife, Sophie Bernshausen Stratmann, is believed to be buried in the nearby Shiloh Methodist Cemetery.
Bernard's third wife, Marie Beinset Stratmann, is also buried in the Stratmann Cemetery. She died approximately 18 months after the birth of their only child, Charles B. Stratmann, on June 14, 1885.
The fourth burial is for an infant of George Stratmann who died approximately 1880. Since the sale in 1918, the property has changed ownership six times and is currently [2003] owned by Mr. and Mrs. Warren Wheelock. The site of the graves has been fen ced and the family to designate the burials in the cemetery erected a single marker in 1970.
This description of the cemetery was written by Eldor E. Spies, a grandson of Bernard Stratmann, who applied for and received the Historic Texas Cemetery designation in 2004. According to the death records of the Lutheran Church at Sublime, Friederike Stratmann, was born 30 Jan 1846 and died 19 Oct 1883. Maria Stratmann was born 2 Dec 1861 and died 21 Aug 1886.
Photos and information courtesy of Brenda Fisseler of the Friench Simpson Library, Hallettsville.