Williams Cemetery
HACKBERRY, LAVACA COUNTY, TEXAS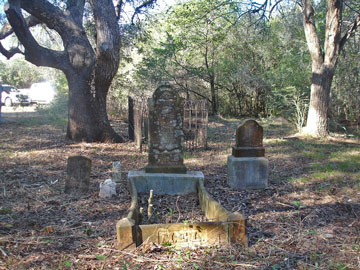 The Williams Cemetery is over 125 years old with the oldest marker being for Effie E. Best who died on August 19, 1880. The cemetery was once near an old Baptist church and it covers a large area that could have included space for many graves, although presently there are only markers for eighteen people. There is also a grave fence with no marker. The most recent burial was in 1971.
On Hwy 77 north of Hallettsville, turn right at FM 532 and go 1.6 miles to the old Williams home on the left. The cemetery is about 75 yards out in the brush northeast of the house.
Kathy Coffee Simmons has provided photographs of the cemetery. Click on each highlighted name to see a photograph of the grave stone.

Marked Graves

Name

Birth

Death

Notes

12 Nov 1877

19 Aug 1880

Daughter of W. C. & M. E.; shares marker with Lizzie Best

30 Jul 1880

13 Feb 1881

Daughter of W. C. & M. E.

8 May 1887

23 Dec 1890

Son of C. M. & Ida L.

14 Jun 1807

2 Dec 1880

"A member of the church for 50 years" [

1

]

Kleinsmith, Johnnie V.

Aug 1898

Feb 1964

24 Nov 1843

4 Oct 1935

Co A, 8 TX Inf, CSA; name on death certificate is Edward C. Lawrence, son of Joseph Lawrence and Mary E. McGearie, buried in Hackberry Cemetery

5 Dec 1878

8 Jul 1883

6 Apr 1857

7 Feb 1881

"Wife of E. C. Lawrence, 23 yrs, 10 ms, 1 dy"

13 Nov 1802

27 Jul 1884

Born in Buckingham Co, VA; died in Lavaca County, TX; Masonic marker

10 May 1829

23 Oct 1894

30 Jan 1813

22 Sep 1891

Born at Orange Co, NC; Masonic marker

Schramek, Summer

28 Aug 1969

31 Oct 1971

Death certificate shows her as the daughter of Dennis Schramek and June Williams

19 Dec 1833

30 Jan 1918

"Wife of John Williams, Born in Alabama"; nee Coffee according to son Jim's death certificate

Williams, James, Sr.

Dec 1945

Death certificate shows birth and death dates as 11 Nov 1859- 24 Dec 1945, son of John and Catharine Coffee Williams

Williams, Jimmie

Jun 1937

Death certificate states name as James Fowlkes Williams and shows birth and death dates as 9 Jul 1906-14 Jun 1937; parents were Josephine Fowlkes and Jim Williams

1 Jun 1831

212 Jan 1900

Williams, John Edward

25 Mar 1911

20 Oct 1961

Williams, Josephine Fowlkes

2 Aug 1874

17 Oct 1964
1. Kathy Coffee Simmons was told that Mary J. Coffee was the wife of W. S. Coffee and believes that she was Jane Brown before their marriage, but does not know if Brown was her maiden name. Please contact Kathy if you can supply more information.
Grave fence for Mary E. Coffee