Malkijah Williams Cemetery
LAVACA COUNTY, TEXAS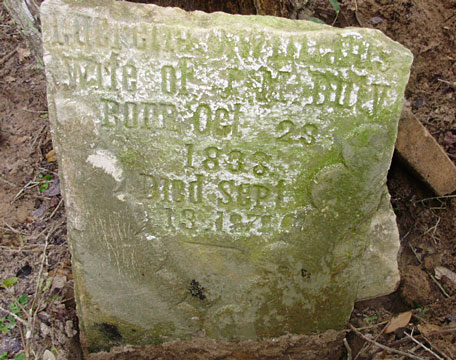 Malkijah Wiliams had one of the original land grants in Lavaca County (abstract #58). Though there are reports of other markers, today there is only one stone remaining in this family cemetery. It marks the grave of a daughter of Malkijah Williams, Lucretia Duty, who died in 1879. The cemetery was surveyed on February 7, 2010 by Harry Foxell, Ty Zeller, W.O. Williamson and Regena Williamson. Otto Borchers of Yoakum had told Regena that he remembers having seen a stone here with Malkijah Williams name on it. He remembered the name because of the Malkijah Williams survey. Additionally, Mr. Foxell thought one of the graves he had seen there in the past was for someone named Slaughter.
This cemetery sits about three miles south of Hwy 111  on the west bank of the Lavaca River in the Malkijah Williams Survey.  The property is currently owned by Dr. Daniel, a descendant of the Borchers family.
Note: This cemetery was not included in Sammy Tise's Lavaca County, Texas Cemetery Records.
Photo of Lucretia Williams Dabney Duty marker contributed by Regena Williamson

| | | | |
| --- | --- | --- | --- |
| Name | Birth | Death | Notes |
| Duty, Lucretia | 23 Oct 1838 | 19 Sep 1879 | "Wife of J.M. Duty"; daughter of Malkijah and Cynthia Burns Williams; first married Henry Dabney on 9 Sep 1859 in Lavaca County |
| Williams, Malkijah | ca 1803 | Between 1850 and 1860 | Unmarked, information concerning burial comes from Otto Borchers of Yoakum; son of William and Elizabeth Williams; step-father was Winslow Turner; married Cynthia Ann Burns on July 16, 1834 in Jackson County, Texas.  Cynthia Burns Williams died between 1860 and 1870 |
Please contact Regena if you can provide additional information about this cemetery.