Cemeteries of Lavaca County

A - B
Most of the following information comes from Sammy Tise's Lavaca County Texas Cemetery Records, Volumes I-VI. Several people have volunteered to do lookups in his cemetery surveys for you. The books are also available for purchase.
Please contact Regena if you have done a cemetery survey or have information or cemetery photos to share.
Adams Branch Cemetery
This old African-American cemetery has over 170 markers. The oldest is for Mariah Mitchell, who died 14 May 1892. Go out of Hallettsville on South Main Street, cross the Lavaca River and take the first road to the left. Go to Adams Branch and just before the bridge turn left onto a private road. The cemetery is on the left about 50 yards off the main road.
Allen Cemetery
Sublime
See photos and a list of burials in the Allen Cemetery.
Andrews Chapel Cemetery
Hackberry

Historic Texas Cemetery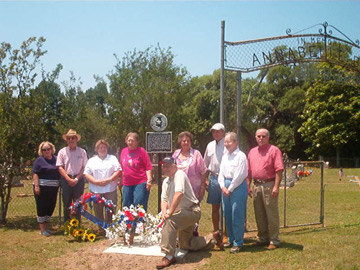 Historic Texas Cemetery Dedication at Andrews Chapel Cemetery on May 22, 2005. Photo contributed by Ernest Mae Seaholm
One of the older cemeteries in the county, it is located about a mile or two north of Hackberry. There are more than 170 markers with the oldest being for Alfred Morrow, who died 6 January 1860. The Historic Texas Cemetery Marker text:
Andrews Chapel Cemetery
Associated with the Hackberry Community, the Andrews Chapel Cemetery was named for settler A. G. Andrews, who by 1866 had donated land for a burial ground and Baptist Church. The oldest marked grave dates to 1860 and the burial of Mexican War veteran Alfred Morrow. Other burials include that of Joseph Lawrence, a veteran of the Battles of Plum Creek and San Jacinto. At the time of his death in 1897, Lawrence was believed to be the oldest surviving veteran of the Texas Revolution. Today, an association maintains the burial ground, holding annual homecomings to reunite and preserve this link to the area's history. - 2004

Read Biography of Alfred Gray and Winifred Hyman Andrews
Antioch Cemetery
Austin Cemetery
Oakland/Shimek Area
See a list of burials in the Austin Cemetery.
Baass Cemetery
Vienna
Baca Cemetery
Shiner
The Baca Cemetery just west of Shiner is the burial place for three members of the Baca family, a couple and their daughter, all of whom died in the 1890s. The cemetery's fenced enclosure measures 25 ft X 30 ft. Information and list of burials provided by Brenda Fisseler and the Friench Simpson Memorial Library.
Burials
Baca, Aloisia, 1877-1897
Baca, Ignac, 1849 - 2 Dec 1896, "Bordovieick(?) na Morave"
Baca, Veronika, 18 Jul 1850 - 7 Nov 1894, "Beckova ve. Vsetine na Morave"
Bailey Cemetery
Hope
Baursville Cemetery
The markers in this cemetery off County Road 261 list a lot of birthplaces in Europe as well as one from Moskau, Russ. Apparently all are German names. This well kept cemetery has over one hundred markers, with the oldest being for Anna H. Fehrenkamp, who died 28 July 1881.
Bennett Cemetery
Sweet Home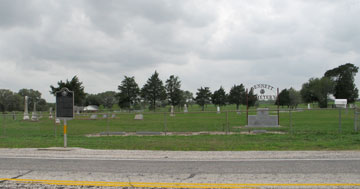 Also known as New Bethel Cemetery, Pioneer Cemetery, and Sweet Home Cemetery

Historic Texas Cemetery
There are approximately ninety burials in this cemetery founded on the homestead of Stephen and Mary Breazeal Bennett. The oldest is for Lucy L. Dyer, who died 26 February 1873. The cemetery is fenced and located on the west side of FM 531 between Sweet Home and Hwy 77-A. It is .35 miles south of the intersection of Hwy 77-A with FM 531. [Note that Sammy Tise lists this cemetery as both the New Bethel Cemetery and Sweet Home Cemetery in his cemetery books.]

Text from the historical marker:
BENNETT CEMETERY

Stephen Bennett (1789-1874), a veteran of the War of 1812, and his wife Mary Ann "Polly" Breazeal Bennett (1798-1877), were born in South Carolina and lived many years in Alabama. They led a wagon train to Washington County in the Republic of Texas about 1841. They soon relocated to a part of Gonzales County which later became Lavaca County. Stephen Bennett became a successful farmer and prominent citizen.

The first burial on this site is believed to have taken place in 1846 when Stephen and Polly Bennett buried their oldest daughter, Sarah Bennett (1819-1846). Other family members, friends and neighbors had been buried here by 1871 when the Bennetts deeded one acre of their homestead to their seven surviving children for use as a burial ground. The oldest marked burials are those of Lucy L. Dyer (1830-1873) and William M. McMurrey (1806-1873).

The Bennett children left their mark on Lavaca County as prominent physicians, cattlemen, soldiers, county officials, Masons and teachers. After the youngest daughter, Mary A. Bennett McCutcheon, died in 1884, the family land was passed to her two sons, Willis McCutcheon, Jr., and B. B. McCutcheon. They later sold a portion of the family land, legally setting aside two and one-half acres for the cemetery. The last known Bennett relative to be buried here was William L. Tolleson (1851-1915). The last known interment on this site took place in 1977. The graveyard also has been known as Pioneer Cemetery, McCutcheon Cemetery, Sweet Home (City) Cemetery, and Bennett-Tolleson Pioneer Cemetery. (1999)
See the Friend of Bennett Cemetery website for photos and more information.
Surnames (including maiden names) of those buried in the cemetery include Armstrong, Bell, Bennett, Berdych, Bethel, Bingham, Bolsius, Bonneau, Breazeal Calhoun, Clements, Clifton, Cox, Currington, Dew, Durst, Dyer, Ellis, Fisk, Greenwood, Hagin, Harrison, Harwood, Hooper, Hranitzky, Kaiser, Koerth, Kuenstler, Kunetka, Layton, Lehmann, Lewis, McCord, McCutcheon, McGrew, McMurrey, McVey, Middlebrook, Moore, Morgan, Mudd, Neely, Niemann, Noble, Oldham, Perrin, Rathke, Saunders, Schlageter, Sharber, Slanina, Spaulding, Stephenson, Sutton, Tate, Tolleson, Vick and Williams.
Bila Hora Cemetery
See a photo and list of burials in the Bila Hora Cemetery.
Bluebonnet Hill Memory Garden
Shiner

This is a large Negro cemetery. It is fenced and well kept. There are about 300 markers, the oldest for Thomas Mitchell who died November 10, 1899. To visit the cemetery take 90-A west to Shiner and across Hwy 95. Turn left on the first road, Sixth Street which eventually becomes CR 343. The cemetery is on the right, next to the San Pedro Cemetery.
Bock Cemetery
Boxville Cemetery
Bressel Cemetery
Pilot Grove
The Bressel Cemetery is unmarked in the Pilot Grove area and contains four graves. It was on a property of 149 acres located four miles east of Yoakum that once belonged to the Bressel family. The two earliest graves are thought to be Mrs. William Kelly and a brother of William Kelly who both died in about the 1840s.
Breslau Cemetery
One of several cemeteries in the county that are over one hundred years old. It is located at Breslau, on the west side of FM 957. There are over 150 markers. The oldest one is for F. W. G. Ladwig, who died 10 November 1873. The cemetery marker shows that it was put up in 1913 by the German Evangelical Lutheran Church.
See photograph of Lutheran Church when it stood next to the cemetery.
Photo courtesy of Norma Casey
Breslau Negro Cemetery
The Breslau Negro Cemetery is located inside the fenced yard of the Breslau Church. There are over 150 burials in the cemetery. The marker for the earliest burial, for a now unidentified person who died 16 January 1888, is broken. Go north out of Hallettsville on FM 957 to Breslau. Turn right on CR 243. The church and cemetery is .2 mile down the road on the right.
Bright Cemetery
Seclusion
All six of the markers are for the Bright family. Four were infants. The oldest marker is for little Caldonia Bright, who died 8 November 1856. Go south on FM 530, .2 mile past FM 2437, and the cemetery is located on the east side of the road.
Burials include:
Bright, Anna M., 17 Apr 1864 - 13 Feb 1865
Bright, Caladonia, 5 Mar 1856 - 8 Nov 1856
Bright, Gatlin, 6 Mar 1820 - 11 Jan 1892
Bright, Ida Bell, 13 Sep 1860 - 21 Apr 1861
Bright, Nora G., 7 Jun 1867 - 5 Mar 1882, Sammy Tise had the following additional notation: wife of Dr. H.F. Williamson, error in date of death because she married him on February 25, 1886 in Lavaca County, Texas
Bright, Thruesa A., 28 Dec 1857 - 21 Apr 1859
Browns Chapel Cemetery
Hackberry/ Oakland
Located next to the Browns Chapel Methodist Church, there are over 250 graves in this cemetery which appears to be the oldest Negro cemetery in Lavaca County. The first marked burial is for Robert Payne who was eighty years old when he died in 1852. To get to the cemetery turn right off Hwy 77 onto CR 214 (Old Kinkler Road) and follow the signs to the cemetery. The cemetery will be on the left side of the road.
Photograph contributed by Dorothy Albrecht
Brushy Chapel Cemetery
This black cemetery is located in the southern part of the county about two miles from the Dewitt county line. It has about 36 markers, the oldest for Lonnie Beck who died March 1, 1930. To get to the cemetery go south from Yoakum on Hwy 111, turn right on FM 1447 and go one-half mile to the first gravel road on the left. The cemetery is on the left about .3 mile down the road where it makes a bend to the right.
Burkett Cemetery
According to Sammy Tise this is a cemetery that was forgotten a long time ago. The last grave was in 1918 and there is very little fencing anymore. It is back off in some woods and cannot be seen from the road. It is up in the northwest corner of the county, about a half mile from Fayette County. The oldest marker is for J. M. Burkett, who died on 14 August 1868. There are nine markers.
Burials include:
Baugh, J. H., 7 Jan 1886 - 8 Mar 1887
Baugh, N. H., 5 Dec 1881 - 17 Nov 1882
Burkett, Catherine, 29 May 1830 - 4 Dec 1917, nee Bunting, married Nathan B. Burkett January 28, 1847 in Gonzales Co, TX
Burkett, J. M., 22 Aug 1854 - 13 Aug 1868, son of Nathan Burkett and Catherine Bunting
Burkett, Lydia C., 15 Jun 1868 - 16 Sep 1880, daughter of Nathan Burkett and Catherine Bunting
Burkett, N. B., 20 Oct 1820 - 16 May 1898, Nathan Boone Burkett, son of David Burkett and Mary Ann Zumwalt, born in Missouri
Burkett, Nicy Ellen, 15 Apr 1869 - 9 May 1869, daughter of Nathan Burkett and Catherine Bunting
Humphreys, Alexander, 18 Sep 1806 - 15 Oct 1880, born in Georgia to George W. Humphreys and Abigail McDonald
Power, Josias, 27 Aug 1824 - 20 Dec 1876
See articles on the Burkett Cemetery and the Burkett Family at the Sons of DeWitt Colony Texas web site.
Bunjs Cemetery
Shiner