ALSO KNOWN AS THE SHIMEK CEMETERY
LAVACA COUNTY, TEXAS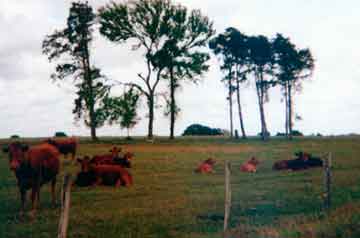 The County Line Cemetery was adjacent to the old County Line Methodist Church and County Line School which were located near the Lavaca/Colorado county line, a short distance from the old community of Shimek. In Lavaca County, Texas Cemetery Records, Volume I, published in 1983, Sammy Tise called this the Shimek Cemetery, as it is listed on some county maps. However, County Line Cemetery appears to be the more historically correct name. Sammy Tise wrote, "Henry Hnatek told me that he can remember when there were about 30-35 graves here." However, by 1983 there were only two markers left, including one for Margaret Montgomery who died in 1872, the earliest known grave. John Ward was probably the last person interred here, in 1928.
There is a photograph of the old County Line Methodist Church and a list of ministers and members from 1887- 1910 at the Colorado County TXGenWeb site. Surnames of church members included Allen, Eason, English, Grobe, Houchins, Kersh, Kyle, Little, Long, McFall, Myers, Paweleck, Rees, Simmons, Smith, Taylor, Wadsworth, Weller, and Williams. The 1896 church membership is online at the Lavaca County TXGenWeb site.
To get to the cemetery, from Sublime go east on 90-A, then go north on FM 155. Take the third road to the left (CR 260) and go to the first road to the right (CR 260 turns right here, CR 138 is straight ahead). The cemetery is about 50 yards past this road under some tall cedars that have been trimmed high.
Weimar Mercury, 13 Feb 1897, page 1

SHIMEK SIFTINGS.

As the cemetery at County Line is in need of cleaning off, it has been announced that all who feel an interest in helping, please meet the County Line leaguers at the church on Feb. 22, at 10 o'clock, a. m.

Weimar Mercury, 27 Feb 1897, page 4

SHIMEK SIFTINGS.

The announcement made in your paper a few weeks past that the people of County Line would meet at the cemetery at that place on the 22d to clean off the graves, brought quite a crowd. Many thanks to those who assisted in the work.

Weimar Mercury, 26 Feb 1898

SHIMEK.

Today being Arbor day the cemetery at County Line will be cleared off.
Most of the following names and information come from obituaries originally published in the Weimar Mercury, which can also be found on the Lavaca County TXGen Web site. Please contact volunteer county coordinator, Regena, if you can supply photographs, additional names, or information about the County Line Cemetery.
| | | | |
| --- | --- | --- | --- |
| NAME | BIRTH | DEATH | NOTES |
| Allen Infant | | Feb 1903 | Unmarked; infant of W. M. Allen, possibly William M. and Georgie Campbell Allen; info from obituary |
| | | Mar 1901 | Unmarked; info from obituary |
| | | Apr 1889 | Unmarked; daughter of James R. Eason; info from obituary |
| | | 9 Aug 1889 | Unmarked; info from obituary |
| Griffith, John G. | | Jun 1896 | Unmarked; info from obituary |
| | | Apr 1890 | Unmarked; info from obituary |
| Little infant | | | Unmarked; name provided to Sammy Tise by Henry Hnatek |
| Montgomery, Margaret | 22 Jun 1854 | 28 Nov 1872 | One of two remaining grave stones; oldest known grave |
| Sartin infant | | May 1900 | Unmarked; infant of Mr. and Mrs. Sartin of Harmony |
| | 5 Dec 1867 | 15 Aug 1889 | Gravestone lists parents as E. E. & M. S.; obituary states first name was Harry |
| | | Nov 1897 | Unmarked; 74 years old; brother-in-law of Tom Wadsworth; info from obituary; obituary states name was Wm. |
| | | Mar 1901 | Unmarked; son of Tom and Lizzie Payne Wadsworth; info from obituaries |
| Wadsworth, Lizzie Payne | | Jan 1901 | Unmarked; married Tom Wadworth |
| Wadsworth, Roy | | Feb 1900 | Unmarked; infant of T. D. Wadsworth |
| | 28 Jan 1859 | 29 Apr 1927 | Unmarked; name provided to Sammy Tise by Henry Hnatek; born in Somerset County, New Jersey to Rev. Robert Ward and Sarah K. Riggs; brother of John N. Ward; info and dates from death certificate which also confirms burial place |
| | | Oct 1928 | Unmarked; name provided to Sammy Tise by Henry Hnatek; death date from obituary and Colorado County death record; last known burial |
| | | Nov 1882 | Unmarked; married Wiley Woolsey; info from obituary |