Following their sons, Mason and Tucker, who had arrived about five years earlier, Washington Green Lee and Sarah Foley came to Texas from Rodgersville, Alabama in 1838. Because of the part W. G. L. Foley played in Lavaca County's early history, Paul C. Boethel wrote Ole Foley, published in 1981, about the contributions and exploits of Foley and his children. Foley founded the first principal settlement in the county, designated as "Foley's Settlement" on Roemer's 1843 Map of Texas. He eventually had one of the largest plantations and became the richest man in the county.
The Foleys' children included Arthur, shot at Goliad; Mason Baty; Tucker, killed by Indians; Hiram "Stewart"; James Rainey, killed in a Mexican skirmish; Elizabeth Elmira (Betsy), who married John Woods; and Sophia, who married Dr. John G. Campbell.
The Foley Cemetery is northeast of Hallettsville on Claude Barnes' property off County Road 209, north of the Vsetin Road (FM 2314). You must request permission to visit. This family cemetery has four old markers which once stood upright, the oldest being for Mason Baty Foley who died of a "congestive chill" on January 27, 1858, at age forty-eight. Newer granite blocks lie above each marker. Judge Boethel supplied the birth dates for Mason and Hiram Stewart Foley shown below in Ole Foley.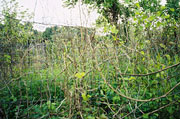 At one time Foley owned over 100 slaves. Sammy Tise, in Lavaca County Texas Cemeteries, Vol. III, wrote that he couldn't locate the old slave cemetery said to be near the Foley Cemetery. The names of some of Foley's slaves are mentioned in Boethel's book.