Hackberry
LAVACA COUNTY, TEXAS
From The Handbook of Texas Online:
Hackberry is on Farm Road 532 eleven miles northeast of Hallettsville in northeastern Lavaca County. It was settled in 1847 by L. E. Neuhaus, who farmed the property for several years and in 1853 opened a steam sawmill-gristmill. He added a cotton gin several years later. A Methodist church was built in the community in 1861, and this building was also used as a school until it burned in 1896. Hackberry, named for a grove of hackberry trees near the Neuhaus home, received a post office in 1862. In 1865 Neuhaus built a general store, which was rebuilt in 1880 as a large two-story building. In the 1860s substantial numbers of German immigrants settled in what had been a predominantly Anglo community. By 1884 the town had an estimated population of 300, seven steam gristmill-cotton gins, two churches, a school, a saloon, a blacksmith shop, and a tin shop. Successive new school buildings were put up in 1896, 1904, and 1928. Hackberry had 119 inhabitants in 1900, and the post office closed in 1906. By the 1930s Hackberry's population had fallen to seventy-five, and in 1940 the community had a school, a cemetery, a business, and a number of scattered dwellings. The school had been consolidated with that of Hallettsville by the 1960s, and in 1981 Hackberry had a few scattered homes. It was still shown on state highway maps in 1992.
Map Drawn by Willie English Showing Neighbors west of Hackberry ca. 1880s
Willie English, born in 1872, sketched her old neighborhood on the back of an advertisement. The road shown on the left is present day US Hwy 77. County Road 532 runs east from Hwy 77, shown below between Bob Coffee and Mansel Coffee. Neighbors mentioned include Ed Chovanetz, Bob, Mansel and Polly Coffee, Dick English, William Lawrence, the McKinnons, William Riley, Charlie Schultz, and John Williams. Mrs. English wrote on the map that Mansel Coffee moved to Throckmorton, Shackelford County. His descendant, Kathy Coffee Simmons, who contributed this map, confirms that he moved there in the early 1880s.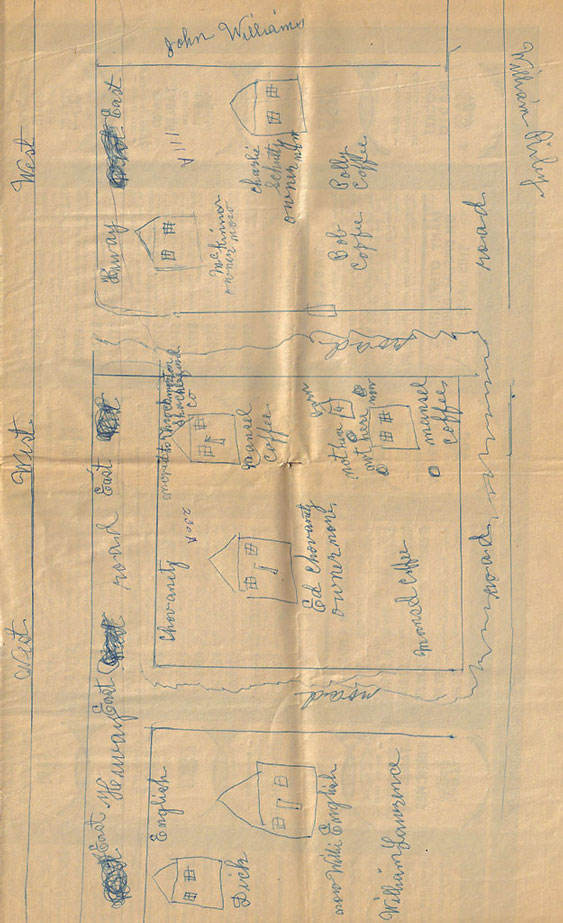 Related Links
Alfred Gray and Winifred Hyman Andrews Biography
Hackberry, Texas
TexasEscapes.com web site