Cemeteries of Lavaca County

H - K
Most of the following information comes from Sammy Tise's Lavaca County Texas Cemetery Records, Volumes 1-VI. Several people have volunteered to do lookups in his cemetery surveys for you. The books are also available for purchase.
Please contact Regena if you have done a cemetery survey or have information or cemetery photos to share.
Haidusek Cemetery
Vienna
Hallett Cemetery
The only marker contains the following text:
Dedicated to the memory of Mrs. Margaret Hallett, foundress of the City of Hallettsville.
Cemetery restored in 1969 by the City of Hallettsville.
Robert A. Kubena, Mayor
Aldermen: Robert I Gindler, George F. Bucek, Sr., Franklin Billimek, Feorge F. Kallus, Howard Glen Dolezal
Adolph Dusek, Eng., Charles W. Patek, Sec'y
Walter Malec, Historian
James H. Simpson, Jr., Chaiman
Lavaca County Historical Survey Committee
Memorial donated by R. J. Pesek Family
To get to the cemetery go north from Hallettsville on Hessler Street, turn left on FM 957. Turn right at the T in road and go to the end of the road. The cemetery is off to the right about thirty yards.
Weimar Mercury, 21 Mar 1952, page 5

90-Year-Old Grave Yields Bones of Lavaca Pioneer

Hallettsville.—A dramatic episode in the history of Hallettsville was unfolded here when the remains of Margaret Hallett, the city's founder, were removed from a 90-year-old grave at the Paul Appelt farm.

Parts of a skeleton, almost complete but with smaller bones missing, were found six feet deep, surrounded by soft soil and traces of a decayed coffin. There was a perfectly preserved set of lower jaw teeth. The remains were placed in a box one-fourth the size of a standard coffin by Undertaker A. J. Kubena's crew, to await Memorial Day services in City Memorial Park.

Disinterment of the remains had been planned months ago by the City Council in line with plans for making over an ancient city cemetery into a Memorial Park, in which many of the city's pioneers ae buried.
Hallettsville City Cemetery
Historic Texas Cemetery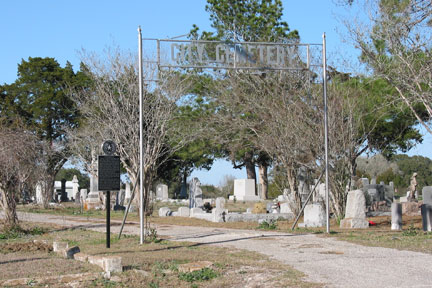 Text of the Historic Texas Cemetery marker:
CITY CEMETERY

On July 19, 1889, the Hallettsville town council met to discuss the poor condition of various small cemeteries in the city. Mayor Fritz Lindenberg appointed Volney Ellis, W. H. Turk and E. H. Mitchel to find suitable land for burials outside the city limits. The committee completed its work in May 1890, when city cemetery trustees bought 4.5 acres from Antonia Kuhn for a new city cemetery. The town's Odd Fellows Lodge, Catholic and Jewish citizens established graveyards on adjacent fields, and part of Clairborn and Martha Moore's land southwest of the city became an African American Cemetery.

Existing burials were reinterred at this location, sometimes referred to as the Protestant Cemetery. The Old City Cemetery, located on South Dowling street, was renamed Memorial Park in 1952.

This burial ground, with tombstones inscribed in Czech and German as well as English, is a rich resource of the city's history. Confederate Maj. Gen. Arthur Pendleton Bagby (1833-1921) is one notable burial. City Cemetery has expended over the years, taking in the Odd Fellows' site in 1945 and additional acreage to the east in 1957. The City Cemetery Association of Hallettsville manages the sacred ground.

Historic Texas Cemetery — 2005
In the 1890s this new burial ground was also known as the Fairview Cemetery. There are about 1800 markers in the Hallettsville City Cemetery, the oldest belonging to Henry V. Riemenschneider who died 15 Jul 1871. Some of the older markers like this one predate the cemetery because the graves were exhumed from the Hallettsville Memorial Park and reinterred here. To visit the cemetery, drive east from Hallettsville on Hwy 90-A. Turn left on FM 2314 (Vsetin Road) and then left again on Cemetery Road. The cemetery is on the right about one-half mile down that road.
Grave of August Heinsohn, 1 Aug 1881 - 9 Dec 1918

1918 photo contributed by Holly Heinsohn
Place cursor on photo to see how the City Cemetery has changed.
Hallettsville Memorial Park
Also known as the Hallettsville Graveyard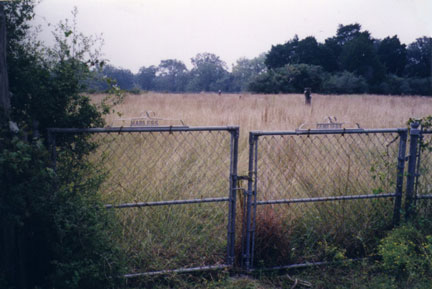 There were 147 markers when Sammy Tise surveyed the Harless Cemetery in 1991, although many of these were funeral home markers that had recently been placed there with no names on them. The oldest marked grave was for Hiram Harless who died in 1859, but that, too, was a funeral home marker. It was believed that a lot of graves were lost, especially toward the creek side of the cemetery. The cemetery has been better maintained in recent years. However, many of the funeral home markers that Sammy Tise mentioned have been disturbed in the process. If you know the precise location of a grave, some type of more permanent marker is desperately needed.
To get to the cemetery drive south from Hallettsville on Hwy 77 to Hope, then turn left on CR 444. Drive 3.4 miles and turn right on CR 447. Go 2.2 miles and the cemetery will be on the left.
Photo contributed by Gwen Boucher
Hazelwood Cemetery
Also seen as Provident City Cemetery or Crabb Cemetery
This cemetery is off FM 530 about 100 yards out in the woods on the west side of the road. It is on Eveline C. Bradbury's land. It is now fenced into two sections with one of the fences almost gone. Sammy Tise originally did not find a name for this cemetery, but called it the Crabb Cemetery since that is the most prevalent name on the seventeen markers in this cemetery. He thought it might possibly have been called the Seclusion Cemetery. Later he found death certificates for people buried there listing it as both the Hazelwood and Provident City cemeteries. Provident City is several miles from this cemetery. It is across the road from the Speaks Store but about a mile from the present Speaks Cemetery, going south on FM 530. Dr. Williamson is buried here, but his wife is buried in the Bright Cemetery, which is further north on FM 530. The oldest marker is for Elizabet W. Crabb, who died 23 November 1882.
Honey Creek Cemetery
Also known as Ward Cemetery
See a photo and list of burial sites in the Honey Creek Cemetery.
Huebner Cemetery
There is only one marker left in this cemetery and it marks the grave of Mathilda Huebner, 22 May 1867 - 20 June 1893. For lack of a better name, Sammy Tise called it the Huebner Cemetery. Go east of Sweet Home on FM 318, take a left on FM 2543. Go to the first road to the left and the cemetery is on the left about one mile.
Jewish Cemetery
See a photo and list of the burial sites at the Jewish Cemetery in Hallettsville.
Old Jewish Cemetery
Hallettsville
See photos, more information, and a listing of the burial sites in the Old Jewish Cemetery at Hallettsville.
Johnson Cemetery
See a list of burials in the Johnson Cemetery
Judd Cemetery
See photos and a list of burials in the Judd Cemetery.
Keilers Cemetery
See a list of burials in the Keilers Cemetery.
Kinkler Cemetery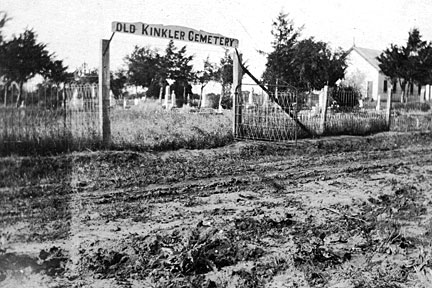 Vintage photo of the Kinkler Cemetery, often referred to as the Old Kinkler Cemetery, contributed by Sharon Chancey
Klimitchek Cemetery
Knox Cemetery
Sweet Home
This very old burial ground has been lost. According to Janet Saylor, William Knox brought his family to Texas around 1850, along with the family of his daughter, Martha Hawkins Knox Goode, and her husband, Obadiah. Knox later decided to return to Alabama. However, after selling his land to John Bennett in exchange for twenty slaves, the Civil War started and Knox couldn't get back to Alabama.
The exact size and location of the cemetery is unknown, though it was said to be about six miles from Sweet Home. It was the resting place for Obadiah Goode who died in 1861 and probably for two of his children who died in 1860, Frederick and Samuel Goode. Family legend says that William Knox's wife, Hetta Wilkins Knox, died in Alabama, but her body was packed in a coffin with charcoal and brought to Texas where she was buried in the Knox Cemetery. There were probably other Knox children buried there, too. Over the years cattle were allowed to roam over the cemetery and it was turned into rubble. Supposedly, the Goode or Knox family erected a large stone at the edge of the property, as a remembrance, but that location is unknown. If you can supply additional information about this cemetery, please contact us.
Koerth Cemetery
Koerth
See list of burials and link to photographs from the Koerth Cemetery.
Koonce-Ponton Cemetery
Also known as Koonce Cemetery
Located in a pasture on private property about a mile north of Ezzell, this cemetery is about a quarter mile from the nearest road. It is fenced and containes only four markers, the oldest belonging to Thomas Dewees who died 28 Mar 1864. A historical marker at the grave of Dr. Joel Ponton states the following:
JOEL PONTON
(July 3, 1802 - February 1, 1875)
Born in Virginia. Came to Texas 1833. Settled first at Gonzales.

Served in the 1836 Texas War for Independence. Later moved to his land here on the Navidad, where he was a farmer, minister of the gospel, frontier doctor, and merchant. In 1840 Comanche Indians shot him and left him for dead with two arrows in his back, but he recovered. He served as Lavaca County judge, 1866-67.

Ponton married five times; was father of nineteen children. (1971)
List of Burials from Sammy Tise's Lavaca County, Texas Cemetery Records:
Dewees, Thomas, 28 Apr 1799 - 28 Mar 1864
Koonce, Philip, 1 Jan 1887 - 1 Jan 1888
Ponton, Dr. Joel, 3 Jul 1802 - 1 Feb 1875
Ponton, Zanna, 14 Mar 1877 - 2 Mar 1881